30 Yard Dumpster Rentals
Dimensions and Capacity of a 30 Yard Roll Off Dumpster
Are you a homeowner or contractor needing to discard large amounts of residential and construction debris? A 30 yard roll off dumpster may be the right size for you. To rent a 30 yard dumpster, call 888-905-2924.
Dimensions: 22 feet x 7.5 feet x 6 feet.
Volume: 30 cubic yards of debris.
Weight Limit: 3.5-5 tons (7,000-10,000 pounds) of debris.
Key Feature: Higher walls allow for larger items to be thrown away.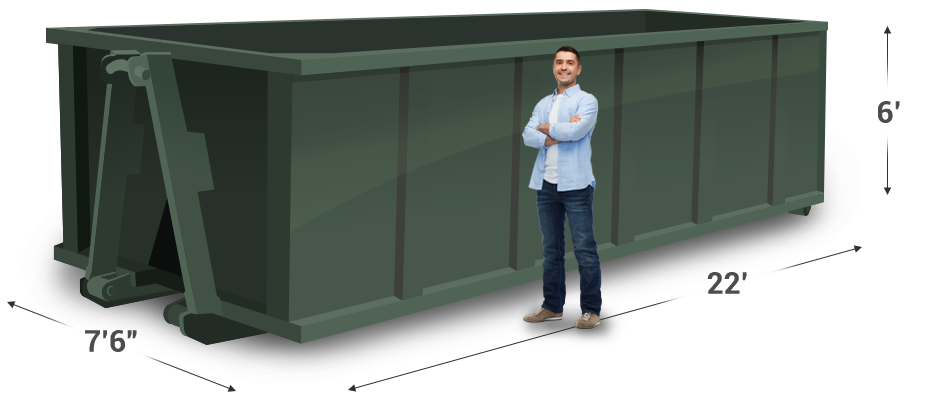 *Dimensions may vary slightly but volume is accurate. Prices and availability are subject to change without notice.
Common Projects for a 30 Yard Dumpster Rental
Got a big job coming up that requires the use of a big dumpster? Our 30 yard containers can handle most major projects, including:
Room additions.
Estate cleanouts.
General junk removal.
Big landscaping projects.
Is a 30 Yard Roll Off Dumpster Right for Your Project?
If you're cleaning out your home, prepping for a move or increasing your square footage, a 30 yard dumpster could be the best fit for you. There may, however, be a different size that better suits your project or budget. Check out our complete list of dumpster sizes or give us a call to get help choosing the container you need.
Dumpster Delivery Guidelines
Expecting a 30 yard dumpster? Here's everything you need to know for delivery:
Space out: Approximately 50 feet of driveway space is needed to drop off the dumpster.
Steer clear: Be sure to clear the driveway area of obstructing obstacles, including cars and tree branches (about 18 feet of vertical clearance is needed).
No need to wait: Since our deliveries are based on the most fuel-efficient routes, your dumpster can arrive at any time throughout the day. However, you don't have to be there for it.
ORDER YOUR DUMPSTER
888-905-2924