40 Yard Dumpster Rentals
Measurements and Projects of a 40 Yard Dumpster
A 40 yard roll off is our biggest size container, suited for large-scale projects that produce substantial amounts of junk and debris. To rent a 40 yard dumpster, call RollOffDumpsters.com at 1-888-905-2924.
Dimensions: 22 feet x 7.5 feet x 8 feet.
Volume: 40 cubic yards of debris.
Weight Limit: 5-6 tons (10,000-12,000 pounds) of debris.
Key Feature: A front-loading door allows you to easily walk in heavier items.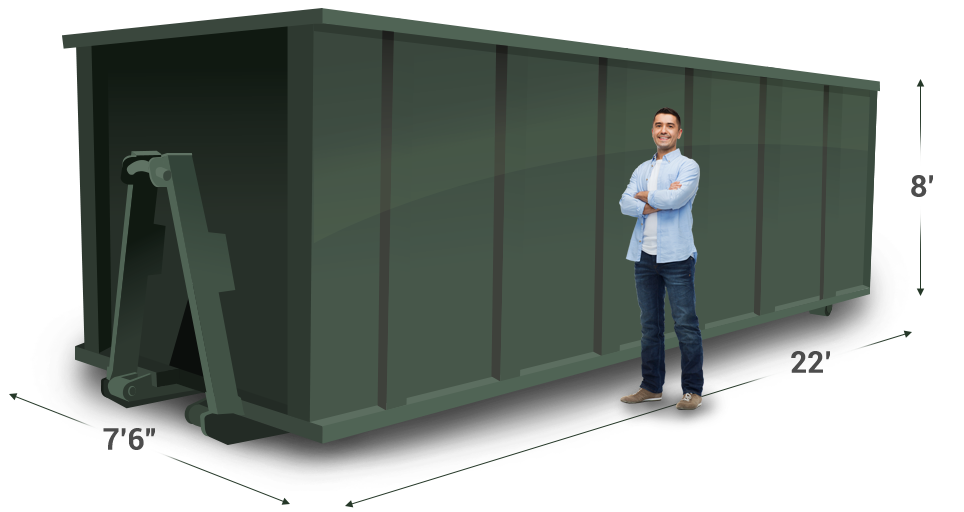 *Dimensions may vary slightly but volume is accurate. Prices and availability are subject to change without notice.
Common Projects and Uses for a 40 Yard Dumpster Rental
A 40 yard container gives homeowners and contractors the flexibility to discard considerable amounts of residential and construction debris from many major projects, including:
Commercial construction.
Large interior home renovations.
Large landscaping projects.
Demolition.
Is a 40 Yard Dumpster Right for Your Project?
Big jobs require big dumpsters, and our 40 yard roll offs can simplify any big job. If you need one for your project, we'll drop it off as close to your work area as possible so you can get all that debris out of your way. Don't worry about trying to toss larger items over the dumpster walls. The front-loading door allows you to easily walk in heavy and bulky debris. If a 40 yard dumpster is too big, RollOffDumpsters.com provides several other dumpster sizes to choose from.
How to Prepare for a 40 Yard Roll Off Dumpster
When expecting a 40 yard dumpster rental, keep in mind the following:
Free up space: About 50 feet of driveway space is needed.
Prep the area: In order for us to drop off the dumpster, the delivery area must be free of cars and any other obstacles.
We come at any time: Delivery schedules are based on the most fuel-efficient routes, so your dumpster can arrive at any time throughout the day. You don't have to be there when it does though.
ORDER YOUR DUMPSTER
888-905-2924