10 Yard Dumpster Rentals
Size, Capacity and Uses of a 10 Yard Dumpster Rental
If you don't have a lot of debris or the space to fit a big dumpster on your property, a 10 yard roll off is your best bet. To rent a 10 yard dumpster, call RollOffDumpsters.com at 888-905-2924.
Dimensions: 14 feet x 7.5 feet x 3.5 feet.
Volume: 10 cubic yards of debris.
Weight Limit: 2-3 tons (4,000-6,000 pounds) of debris.
Key Features: Small enough to fit in almost any space on your property.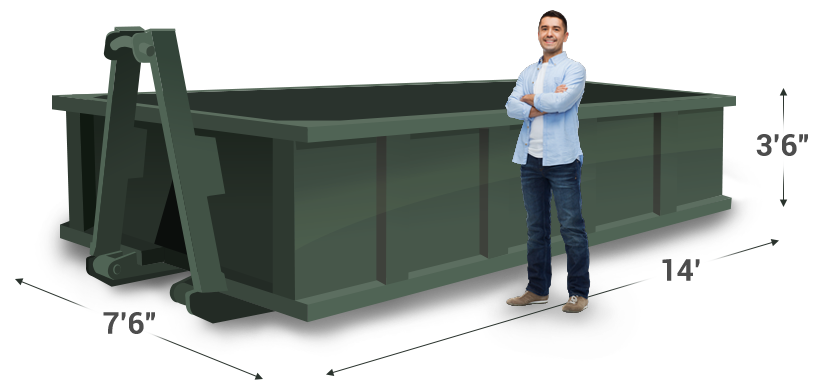 *Dimensions may vary slightly but volume is accurate. Prices and availability are subject to change without notice.
Common Projects for a 10 Yard Dumpster Rental
A 10 yard dumpster is the smallest and most affordable option we offer and intended for small projects, including:
Household cleanouts.
Garage, basement and attic cleanouts.
Small landscaping projects.
Concrete and dirt removal
Is a 10 Yard Container Right for Your Project?
Our 10 yard roll off dumpsters can easily fit outside the home, either in the driveway or on the street, as well as job sites with limited space. If you're not sure whether this is the right size for your project, contact our customer service team. We offer a wide range of dumpster sizes to choose from and can help you make the right call.
What to Expect When Expecting a 10 Yard Dumpster
Follow these rules of thumb when preparing for and using a 10 yard roll off dumpster:
Make room: You will need about 50 feet of space in your driveway, and at least 18 feet of vertical space, to have a 10 yard dumpster dropped off.
Clear the area: Make sure there are no cars, trees, low-hanging wires or other obstacles that would prevent us from dropping off the container.
Don't put your plans on hold: Your dumpster can arrive at any time throughout your scheduled delivery day. The good news is you don't have to be present for delivery.
Make weight: When loading your debris, keep in mind the weight limit of a 10 yard dumpster.
ORDER YOUR DUMPSTER
888-905-2924